WHAT I DO:
#seriousgames4remote (organizer and player)
#play14 Berlin, the online edition (organizer)
giving workshops for people who want to spice up their online meeting
participating in a lot of online talks and scrum and agile coaching-related talks
#EUvsVirus Hackathon: Participated with my own team: CatinaBox.eu
Some fun things I did in 2019, too:
May: Organisation and Facilitation of a Design Thinking and Prototype Sprint (Freelance Project)
August: Chaos Communication Camp: Taking care of the Kids Space and the GSM-Team with agile methods (Kanban, Planning, Stories etc.)
September: Liberating Structures Scrum Workshop (2 days workshop as participant)
October: Vision/Mission Workshop
November: Manage Agile (Berlin) 4 Days facilitation of the games area together with a bunch of likeminded players
November: Training the Trainers: Held a session for trainers about playing games
December: Lead Developer Conference in Berlin: On behalf of Architrave I played agile games all day with the conference participants.
And What else am I doing?
When I'm not waving the agile flag, convincing random strangers to play games etc… I'm digging and playing (DJing) weird HipHop and Bass – Music. You can find my music recommendations on my Support Your Local Ghetto Tumblr and most of my mixes on my Soundcloud, Mixcloud, Hearthis – Accounts.
I also have a blog (or 2) with a lot of music industry things, good stories, bad stories, fun things etc.. (currently on hold) –> https://hallama.org/
And WHAT else??
….. biking! Love biking in the beauty of Brandenburgs nature with my road bike "Mr. Weasel"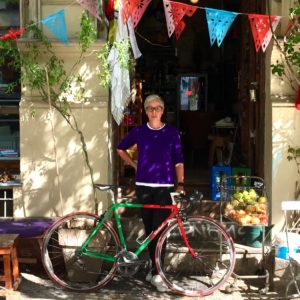 F